PHILADELPHIA (August 7, 2023) – Klehr Harrison is pleased to announce they have donated 12 boxes of school supplies, including 144 backpacks to ACHIEVEability, which distributes over 1,000 backpacks filled with school supplies to West Philadelphia students. Litigation partner, Monica Clarke Platt serves as a board member.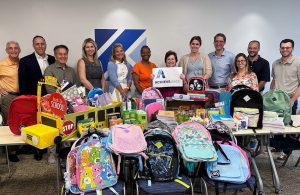 We have a firm commitment to the community and supporting education is a cornerstone of our firm's community program. From individual endeavors to firm-wide initiatives, we are consistent in our mission to give back to those in need. 
About ACHIEVEability
Since 1981, ACHIEVEability has worked to permanently break the generational cycle of poverty for low-income, single parent and homeless families through higher education, affordable housing, supportive services, community and economic development and accountability.