PHILADELPHIA (July 20, 2020) – Klehr Harrison is pleased to announce they have donated 68 Lenovo and Dell desktop computers to the Philadelphia Children's Foundation (PCF), which supports Philadelphia metro-area public schools by installing computers in classrooms, publicly accessible locations, and, more important than ever, placing them in the homes of low-income families.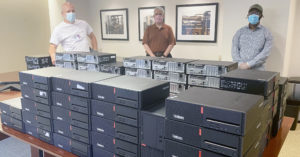 "Supporting education is a cornerstone of our firm's community program. With the significant need for computers to support virtual learning during this pandemic, we were looking for a community partner to work with who would place the computers with those kids most in need," said Brad Krouse, managing partner of Klehr Harrison. "We found a great partner in PCF and we are thrilled to help out."
Jan Deruiter, executive director and board member of PCF said, "To be able to provide computers to those kids and families most in need to use for virtual learning at this critical time is significant for the community and we are so grateful to Klehr Harrison. These much-needed computers will go to great use."
About Philadelphia Children's Foundation
PCF (phillykids.org) is a 501(c)(3) non-profit organization that supports Philadelphia public schools by installing internet-ready computers in classrooms and publicly accessible locations. They also help outfit school libraries with books, provide computers to low-income families that do not have them, and teach 3D printing and computer literacy classes. Their mission is to help children of all ages find their passion, develop needed skills, and make positive career and life decisions for a successful future.