New Philadelphia law firm MP and leadership team to take the reins Jan. 1, 2019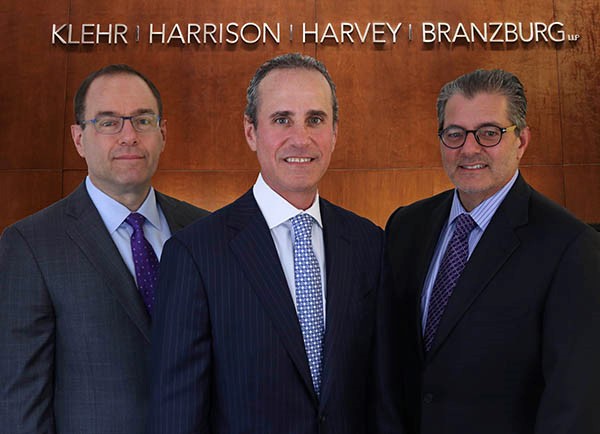 Photo credit: Kate Riccardi


PHILADELPHIA (Sept. 12, 2018) – Klehr Harrison Harvey Branzburg LLP (Klehr Harrison) today announced that Bill Harvey will turn over the managing partner position to Brad Krouse on Jan. 1, 2019. The firm also announced the formation of its first Executive Committee which will be comprised of the firm's managing partner, along with Keith Kaplan and Michael Coran. The formation of the Executive Committee enables the sharing of management responsibilities and facilitates this transition to second-generation leadership, while each attorney will continue to practice law and serve as a committed advisor to and advocate for their clients.
Harvey has served as the managing partner of the firm since 1997. He is an aggressive advocate and a sought-after, experienced litigator whose practice focuses on shareholder, employment, real estate, and insolvency litigation. Under Harvey's management, Klehr Harrison has become one of the region's most profitable law firms, financing itself organically without any bank, loans or third party debt.
"I have been Managing Partner for 22 years," Harvey explains, "I wouldn't practice anywhere else. I still love problem-solving for our clients. My practice is strong and I intend to continue what I've been doing here for over 40 years. "
"Bill Harvey has been a strong and effective leader for our firm," said Krouse. "As a result of his leadership, the firm has thrived. He imparts to our new executive team a strong and fiscally sound organization comprised of talented and accomplished professionals. I will continue to draw upon Bill's wisdom, judgment, and 22 years of executive management experience."
Krouse will be the first managing partner of Klehr Harrison who is not a founder. In his new role, Krouse will serve as the chief executive of the firm. He has served as the chair of Klehr Harrison's Real Estate and Finance Department since 1999, and as such, has built and led one of Philadelphia's premier real estate practices. He represents many of the region's most prominent real estate developers, owners, investors, and private equity companies. He will continue to serve his clients as a strategic counselor, advisor, and dealmaker.
"Brad has been a leader in the firm for years," said Harvey. "He is one of Philadelphia's best lawyers, well respected both internally and externally, and has led and managed our Real Estate and Finance Department into one of the strongest in the region." Harvey added, "Brad, Michael, and Keith make up a highly competent management team. Our law firm is poised for this transition."
Kaplan has served as the chair of Klehr Harrison's Corporate and Securities Department since 2000. He leads one of Philadelphia's most successful private investment fund practices. He represents private investment funds and their sponsors in their formation and operation, and institutional investors in their investment transactions. Kaplan's broad experience includes venture capital, real estate, buyout, structured finance, distressed debt, special situation, mezzanine, and hedge funds.
Coran, an experienced "big-case" trial lawyer, has served as the co-chair of Klehr Harrison's Litigation Department since 1998. He will continue to concentrate his legal practice in merger and acquisition and private equity disputes, corporate governance litigation, securities litigation, securities industry disputes, intellectual property, lender liability, and business torts.
Krouse said, "My role as the managing partner, along with the role of the executive committee, will be to focus on strategic planning and oversight of core business functions to position the firm for continued long-term success. We intend to foster strategic growth, and serve as thought leaders and innovators to support and enhance the developing needs of our clients. We will continue to secure our competitive position in an evolving legal environment for years to come."
About Klehr Harrison Harvey Branzburg LLP
Klehr Harrison Harvey Branzburg LLP is a multi-service law firm known in the business, financial, and legal communities for its attorneys' aggressive and creative problem-solving skills. Founded in 1975, the firm prides itself on prompt, insightful, and business-focused legal solutions for clients ranging from entrepreneurs to large institutions. Klehr Harrison's attorneys offer legal excellence, innovative solutions, and sound judgment in the areas of real estate and finance, commercial litigation, private investment funds, bankruptcy and corporate restructuring, corporate law, environmental law, family law, intellectual property, labor and employment, tax, and zoning and land use. For more information, go to www.klehr.com.