Biography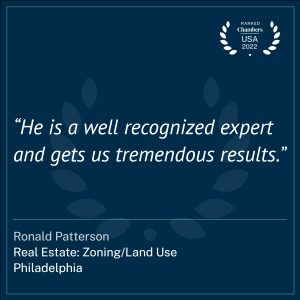 Ron is the co-chair of the zoning and land use practice. His practice concentrates on zoning and land use matters, as well as on other land use and environmental regulatory, permitting and counseling issues.
Ron deals directly with obtaining all of the necessary zoning, use, building and other development-related permits and approvals from the relevant City agencies that enable a person to build or renovate a building, and operate a business. He meets with and obtains comments and approvals from various City agencies, including Licenses & Inspections, the Planning Commission, Streets Department, Water Department, Redevelopment Authority, PIDC, Historical Commission, Art Commission, Zoning Board of Adjustment and other City departments. He also interacts directly with local community groups and elected officials to gain their support or to eliminate opposition to a proposed project. Once zoning approvals are obtained, he assists in filing for and obtaining other necessary building-related permits, operational licenses, and available 10-year real estate tax abatements. Ron has an engineering degree and worked at the U.S. Environmental Protection Agency, better enabling him to work closely with architects, engineers and construction professionals in order to understand, tailor and modify the necessary plans that comprise the applications, permits and approvals. He is also experienced in reviewing and coordinating preliminary environmental investigations and remediation programs.
Ron is a member of the Packer Park Civic Association, Executive Board, a founding member of the Penrose Area Civic Association that covers most of southwest Philadelphia, and a former member of the Zoning and Business Development Subcommittee of the former Eastwick PAC that oversaw development in the Eastwick/Southwest Philadelphia Area pursuant to the federal Eastwick Urban Renewal Plan of 1956.  In addition, he is counsel to two Democratic Wards in Southwest Philadelphia. He also served on Mayor Michael Nutter's Administration's Subcommittee on Zoning Board Policy.
Education
Widener University School of Law, J.D., cum laude
Drexel University, B.S. Chem. Eng., with honors
Memberships
Executive Board Member, Packer Park Civic Association
Executive Board Member and Founding Member, Penrose Area Civic Association
Ward Attorney, Democratic Wards 40A and 40B
Member, Board of Directors, ALS Hope Foundation
Trustee, Board of Trustees, West Philadelphia Catholic High School
Past President, Reserve at Packer Park Homeowners' Association
Board Member, Building Industry Association of Philadelphia
Awards & Honors
Named to the Real Estate Dealmakers of the Year list by Philadelphia Business Journal (2021)*
Recognized as a leading Real Estate Zoning/Land Use attorney in Pennsylvania by Chambers USA (2021-2022)*
Named to "The Best Lawyers in America©" list for Land Use and Zoning Law in Pennsylvania by Best Lawyers (2019-2023)*
Named to "The Best Lawyers in America©" list for Real Estate Law (2021-2023)*
Selected to the "Best of the Bar" list (real estate) by Philadelphia Business Journal (2020)*
News & Events
Experience
Strategizing to obtain by-right Zoning Permits
Presenting cases for variance relief at the ZBA
Representing developers in obtaining permits and approvals necessary for construction of office buildings, parking garages, residential, commercial and mixed use projects in all sections of Philadelphia
Representing large and small developers of vacant non-residential property for residential uses, the conversion of non-residential buildings to residential and the construction of new houses in Philadelphia
Orchestrating and navigating developers through the Philadelphia City Council legislative process to obtain zoning ordinances for the by-right zoning of large-scale development projects
Counseling and drafting of City Council Zoning Ordinances
Preparing Equal Opportunities Plans
Obtained and continues to secure, all development approvals regarding the Schmidt's/Piazza site area
Securing approvals for residential/commercial Delaware River Waterfront projects
Obtaining zoning, building and other development and licensing approvals for high-profile restaurant, nightclub and entertainment clients
Reviewing and preparing due diligence reviews
Preparing Land Use Opinion Letters for Lender's Counsel
Urban Redevelopment issues