Biography
Glenn concentrates his practice on business litigation, with a particular emphasis on appellate litigation. He has argued appeals in every appellate court in the tri-state area and several other courts around the country and has tried cases in various state and federal courts and arbitration forums.
Clients have said they appreciate his ability to gain a deep knowledge of their company and what is truly important to them while using a common sense and business-friendly approach to resolve disputes.
Glenn represents clients in a wide range of matters, including disputes involving governance of corporations and alternative business entities, and contract, employment, fiduciary duty, real estate, real estate tax assessment and uniformity issues, securities, trademark infringement, trade secrets, zoning, and other business tort matters. He also represents clients in matters involving administrative agencies and self-regulatory organizations, including conducting internal investigations and handling enforcement matters.
Glenn's clients have included consulting firms, directors and officers, equity investors, information technology services providers, investment banks, lenders, manufacturers, members of LLCs, private equity sponsors and portfolio companies, real estate developers and owners, large retailers, and technology companies.
Education
University of Virginia School of Law, J.D.
Amherst College, B.A., magna cum laude
Admissions
Pennsylvania
New Jersey
U.S. Supreme Court
U.S. Courts of Appeals, Second Circuit
U.S. Court of Appeals, Third Circuit
U.S. Court of Appeals, Fourth Circuit
U.S. District Court, Eastern District of Pennsylvania
U.S. District Court, District of New Jersey
Memberships
Member, Philadelphia Bar Association, Appellate Practice Committee
Member, American Bar Association, Appellate Courts Committee
Awards & Honors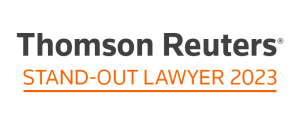 Named a Thomson Reuters Stand-out Lawyer – independently rated lawyers (2023)
Martindale-Hubbell "AV Preeminent" rated.*
*No aspect of these advertisements have been approved by the highest court of any state. See Awards Methodology
News & Events
Press Release, "Glenn Weiner Named Standout Lawyer," May 23, 2023
Quoted, "Pa. Panel Calls Philly Commercial Tax Hikes Unconstitutional," Law360, July 30, 2021
Quoted, "Philly judge orders city and schools to repay nearly $50 million in tax revenue to commercial property owners," The Philadelphia Inquirer, July 18, 2019
Quoted, "Philly Commercial Property Tax Hike Ruled Unconstitutional," Law360, July 18, 2019
Presenter, "Letters of Intent: Be Careful What You Wish For," accredited CLE seminar, November 18, 2014
Presenter, "Brief Writing," accredited CLE seminar, February 7, 2008
Experience
Representative Matters:
As one of the lead counsel at trial, obtained a fully favorable decision in Duffield House Associates, L.P. v. City of Philadelphia and consolidated cases. The unprecedented decision required the City of Philadelphia to refund as much as $63 million to commercial property taxpayers because the City's reassessment of only commercial properties was in violation of the Uniformity Clause of the Pennsylvania Constitution. Served as lead counsel on appeal, arguing on behalf of the group of taxpayer counsel, and successfully defended the trial verdict when the decision was affirmed by the en banc Commonwealth Court and the Pennsylvania Supreme Court denied allowance of appeal.
Obtained summary judgment in favor of an IT services company in a AAA arbitration in which a software provider alleged that the company misappropriated trade secrets and breached contractual confidentiality provisions in a license agreement, and sought preliminary and permanent injunctive relief and damages of up to $80 million.
Obtained, on behalf of private equity partnership, its sponsor and its principal, dismissal of all claims, including conversion, unjust enrichment, fraudulent transfer, aiding and abetting breach of fiduciary duty, civil conspiracy, rescission, fraudulent and negligent misrepresentations and violations of federal and state securities acts, by investors in partnership who asserted their investments were taken without proper authorization.
Conducted a forensic audit and co-authored a report for The Harrisburg Authority regarding the accumulation of more than $300 million in debt related to the Harrisburg municipal incinerator.
Successfully defended an appeal in Pennsylvania Supreme Court of the grant of a gaming license to one of two successful applicants in Philadelphia and obtained an order from Pennsylvania Supreme Court in original proceeding directing City to grant zoning approvals to gaming licensee.
Obtained a multimillion-dollar verdict for Fortune 50 company involving breach of retrospective equity adjustment agreement by client's co-equity sponsors in foreign power plant project.
Obtained order on appeal vacating summary judgment against client on issue of first impression in federal courts regarding the application of overtime laws to employee benefits offered through Section 125 "cafeteria plan."
Obtained then-record damage award under the Anticybersquatting Consumer Protection Act of 1999, recovering the maximum amount of statutory damages available under the Act, plus all attorney's fees and costs and possession of the five domain names in question, then defended the verdict on appeal.
Obtained summary judgment for investor in convertible debentures requiring issuer to deliver common stock to the investor worth more than $1.2 million on the investor's $50,000 investment and to pay the investor's attorney's fees and
Jointly obtained a multimillion-dollar trial verdict for equipment finance lender against borrower and guarantors, recovering all principal and accrued interest, plus attorney's fees and costs, then defended the verdict on appeal.